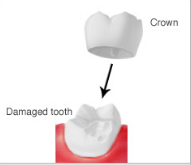 Many times old fillings may have become excessively large relative to the size of the tooth, or some areas of the tooth may have fractured off, thus necessitating a crown.
Occasionally fracture lines or fractures may have begun in a tooth because of trauma or excessive forces on the tooth. These are situations that may require more than a simple filling and are served well with a crown.
A crown may cover all or part of a tooth and is generally used to either replace missing tooth structure or reinforce remaining tooth structure. Sometimes, crowns are made of metal, specifically gold, but today most patients prefer crowns that look more like natural teeth.
Today, there are many good materials that match a natural tooth. Occasionally porcelain will be put over a metal coping, hiding the metal entirely. Solid porcelain may be used where less strength is needed and the option of white zirconium cores or pressed ceramic cores under the porcelain, may be applicable for more strength.
There are many options available today that did not exist only ten years ago. Dental cements, as well as resin bonding cements, have improved dramatically in recent years making crowns much more reliable and natural.