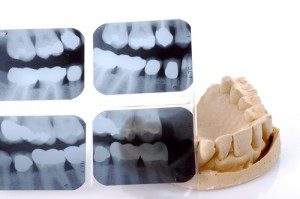 When it comes to how often you should get your teeth x-rayed, the bitewing x-ray schedule is a good guide to go by. Bitewing x-rays are taken approximately once a year.  These specific x-rays show between the teeth, which visually can't be seen during a clinical exam.
Depending on the patient, the dentist will take a full series of x-rays, which show the full extent of the back teeth, including all the roots and all the anterior teeth.  In addition to those four bitewing x-rays, it is recommended to have a full series of x-rays approximately done every five to seven years.
If it's a periodontal patient, where you're not willing to let things go five years at a time because you're checking the level and the contours of the bone, you may want to get a full set of x-rays every two or three years.  But, again, it depends on the patient.
With new patients, it is recommended to start out with a full set of x-rays so your have a good baseline of what has been happening in your mouth.  If you've had a full set of x-rays taken within the last year, then at that point, it might be okay to have just a set of bitewing x-rays taken.