The very first procedure needs to be a thorough hard and soft tissue exam of the head and mouth accompanied by x-rays. After a complete diagnosis, the existing conditions are reported to the patient with treatment options. Then it becomes the responsibility of the general dentist to be the leader of whatever treatment maybe needed.
Examination & Diagnosis
Every new patient starts with a thorough oral examination. The only exception would be an emergency situation.
Included in the exam is a complete evaluation of all teeth, missing teeth, restorations, and soft tissues, which include the gums, tongue, palate, and other surrounding tissues.
A full series of x-rays is necessary to complete this exam. An oral cancer exam is also conducted and is rechecked at every subsequent cleaning appointment. The TMJ (Temporomandibular Joint) is also evaluated.
After all information is gathered, a diagnosis will be presented with various options, both restoratively and financially, so the patient along with the dentist can decide the best course of treatment.
Dental Fillings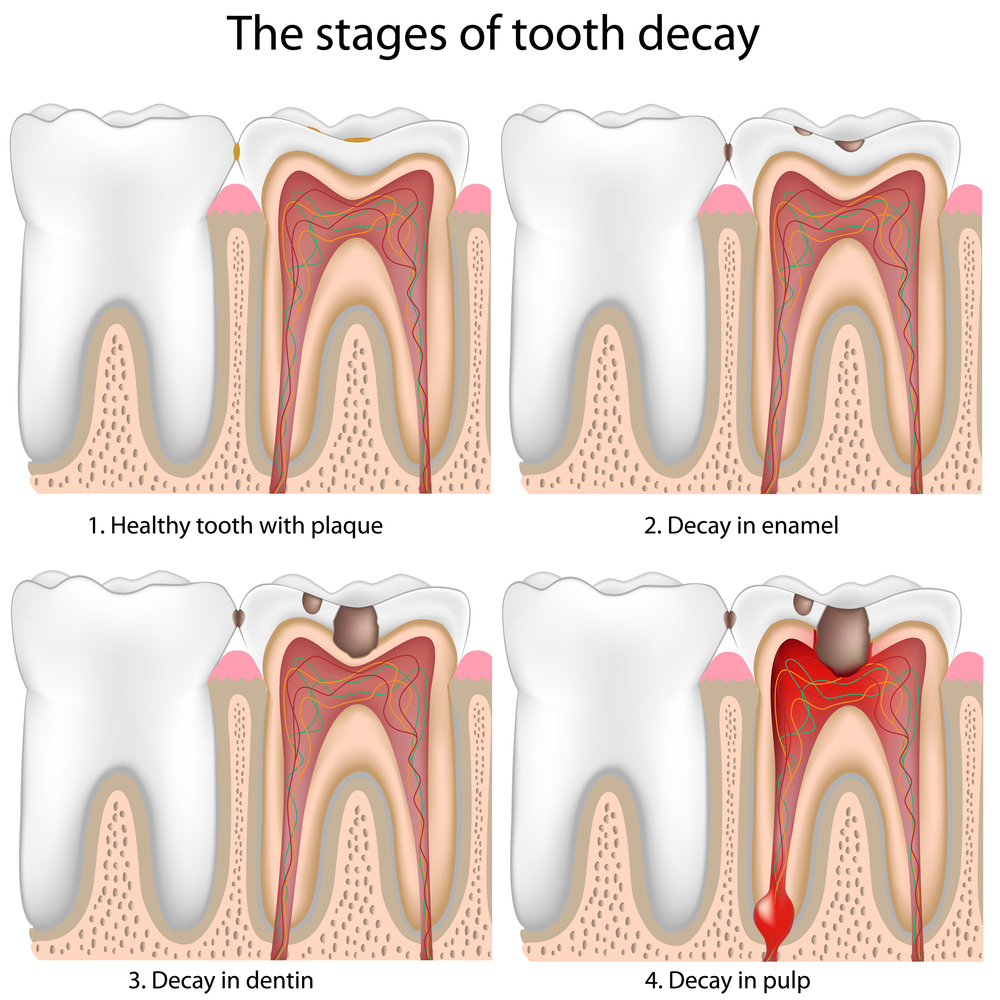 Dental fillings are any material that fill a cavity preparation. Today, dentists can be much more conservative in their cavity preparations because we can bond very effectively to tooth structure, both on front (anterior) and back (posterior) teeth. Silver amalgam fillings are still used, but both Dr. Horwitz and Dr. Monzon have not used silver for many years.
The primary material used for fillings today are composite materials, which are synthetic resins. These are available in various shades so that the filling will match the tooth as well as possible and generally become invisible. They are bonded to the tooth and in so doing, are able to restore much of the original physical integrity of the tooth.
Crowns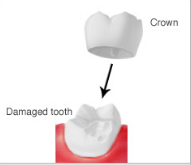 Many times old fillings may have become excessively large relative to the size of the tooth, or some areas of the tooth may have fractured off, thus necessitating a crown.
Occasionally fracture lines or fractures may have begun in a tooth because of trauma or excessive forces on the tooth. These are situations that may require more than a simple filling and are served well with a crown.
A crown may cover all or part of a tooth and is generally used to either replace missing tooth structure or reinforce remaining tooth structure. Sometimes, crowns are made of metal, specifically gold, but today most patients prefer crowns that look more like natural teeth.
Today, there are many good materials that match a natural tooth. Occasionally porcelain will be put over a metal coping, hiding the metal entirely. Solid porcelain may be used where less strength is needed and the option of white zirconium cores or pressed ceramic cores under the porcelain, may be applicable for more strength.
There are many options available today that did not exist only ten years ago. Dental cements, as well as resin bonding cements, have improved dramatically in recent years making crowns much more reliable and natural.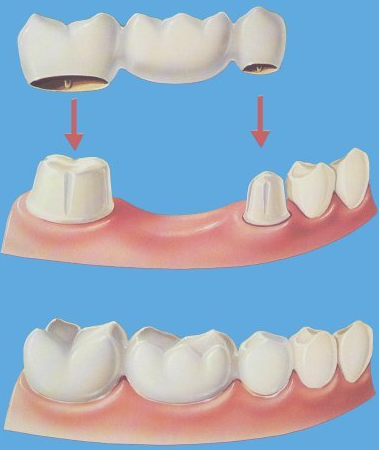 Before predictably successful dental implants were available to dentists, the only way to replace a tooth permanently was to attach it to an existing tooth, or multiple existing teeth. This is called a bridge.
Bridges are still very good ways to replace missing teeth, especially if those teeth already have large fillings or existing crowns. The procedure would simply be to crown the existing teeth and connect the replacement tooth or teeth to the crowns. This is then cemented to the existing teeth and functions as if the teeth were never missing. Missing teeth may be replaced in this manner for both function and esthetics.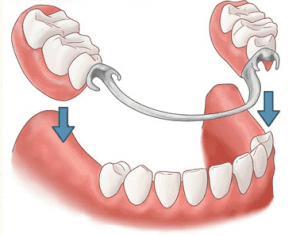 Occasionally, numerous teeth may be lost in a patients mouth. This may happen for many reasons; decay, infection, trauma, periodontal breakdown, and sometimes, just bad dentistry.
If tooth loss progresses to the point that there are not an adequate number of teeth remaining to support fixed bridgework, then removable bridgework (partial denture) may become necessary to replace missing teeth. Replacing many teeth with removable bridgework may also be quite a bit less expensive than fixed, permanent bridgework.
As long as even one tooth remains in a dental arch, then the appliance is a partial denture. However, when there are no longer any teeth remaining in an arch, then the removable appliance has become a full denture.
If there are no teeth remaining in either arch, this would then become a set of full dentures, upper (maxillary) and lower (mandibular). Older dentures need to be checked periodically to insure that they still fit and function well.
In the mid 1980's p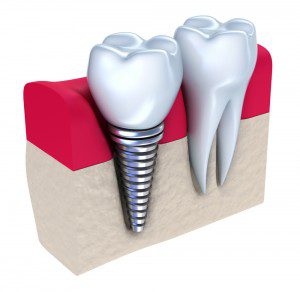 redictably successful dental implants were first done. Dentistry now has a 25 year plus history of placing dental implants that can then be restored in many ways. An implant is a post made of a titanium alloy that is placed in the bone where a tooth once existed. 
 After a period of time passes (3 to 4 months), the bone grows to the implant and integrates to the implant and essentially, the implant and the bone fuse together. In many ways, an implant is more solid than a tooth. Once the implant has integrated, it can be used to restore many different situations involving missing teeth.
Today, the most common use of implants is to replace a single missing tooth. In this case, an abutement is screwed to the implant. The implant acts as the root of the tooth and the abutement acts as the crown portion. A crown then covers the abutement just as if it were a tooth.
Implants may be used to replace multiple teeth, or in some cases, all of the teeth with what would be called a screw retained denture. Another very good use for implants is to support and retain removable partial or dentures. This can make situations that may be either unstable or loose, suddenly very solid.
The routine dental cleaning is meant to make sure of two things: first, that periodontally you stay healthy and, second, to be sure nothing else is developing inside your mouth. Because every person's mouth is unique and treated on an "individual" basis, some people may need dental cleanings on a regular basis every 3 months because their teeth need the extra attention. But the majority of people we see we recommend to come in and have their teeth cleaned every 6 months.
Why Do I Need My Teeth Cleaned Every 6 Months When My Teeth Don't Actually Feel Dirty?
Great question! They may not feel dirty, but bacterial plaque is a by-product of your saliva, and wherever your saliva travels to in your mouth, plaque follows, and plaque is your biggest enemy. It's the primary cause of periodontal breakdown. It's the primary cause of tooth decay.
The bottom line is that if you're able to remove every bit of plaque, every 24 hours, then, you may not ever have any great deal of buildup of hard materials because when plaque stays in your teeth for more than 24 hours, it picks up calcium and phosphorus from your saliva and it gets hard. When plaque becomes hard in your mouth, it becomes dental tartar and the only way to get that off is to physically scrape it off.
A routine dental exam will help you reach places that are not normally exposed like below the gum line. These soft tissues in your mouth are not visible and there may be inflammation in these tissues. So even though everything may look real clean to you in your mouth, if there happens to be bleeding in the gums, then there's inflammation in the gums, which is exactly why you want to have a routine dental cleaning every 6 months. A thorough dental exam is accomplished during the cleaning, so that we are looking at all aspects of your gum tissue, your teeth, and the other soft tissues in your mouth to make sure nothing bad is happening like developing periodontal issues.

Periodontal Treatment You are here: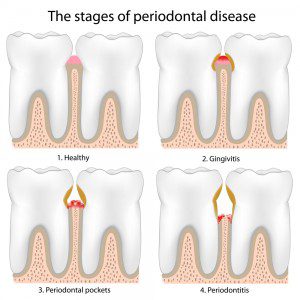 Periodontal treatment is the care and treatment of the hard and soft tissues that support the teeth (gums and bone). The simplest form of periodontal therapy is simply a thorough cleaning of the teeth and tissues surrounding the teeth. As stated, when discussing other dental treatments, diagnosis of the existing periodontal health is always the primary concern.
If the overall periodontal health is good, then a dental cleaning and exam is the only recommended treatment. If there has been an extended time since any dental treatment, it may require more than one appointment to thoroughly clean the teeth.
Occasionally, there maybe quite a bit of calculus and plaque built up that a single appointment to clean each quarter of the mouth may be needed. If there has been breakdown to the supporting structures of the teeth, then additional treatments may be required. This is always determined after a thorough examination with x-rays and on an individual basis. Also, as with all dental treatments, pros, cons, and alternatives are always discussed.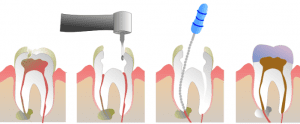 Occasionally the nerve of a tooth may be affected by decay, trauma, or even dental work. The nerve may become and stay very sensitive or may even deteriorate. Root Canal Therapy always seems to create a great fear of pain and discomfort.
Today the therapy is very straightforward, predictable, and not at all uncomfortable. The key is to do the treatment before there is an acute infection due to the breakdown of the nerve.