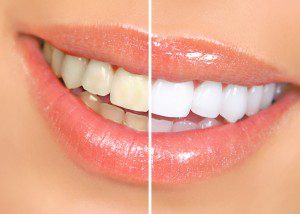 Teeth whitening, or bleaching of the teeth, is a very conservative procedure that can produce great results for minimal cost and no invasive treatment. Teeth whitening is best done at home after custom fitted trays are made for the patient.
This simple procedure requires having two impressions taken in the dental office. The patient will wear these trays with a bleach solution for approximately 7-14 days for 2-3 hours per day.The results are long lasting but may require 1 or 2 nights of touch-up every 6 months.
The only possible side effect is a temporary sensitivity. Dental bleach materials today all contain products, such as fluoride, to reduce this sensitivity. Bleaching is best suited for teeth that have become darker with aging, but can be used successfully by patients of all ages.
Want to Win FREE Teeth Whitening Kit?
Enter your name and email for a chance to win a free teeth whitening kit (a $350 value). One winner will be drawn every month. The only way to win is to enter your information below.
Terms and Conditions: Ventura Total Dentistry presents the opportunity for a free cosmetic dentistry treatment with our monthly drawing. Each month, our office will pull one winner at random. The lucky winner receives a free Rembrandt© in-office teeth whitening treatment. To apply, fill out the form on this page with your first name, last name, email address, phone number, and birth date. All information is required to qualify. You may not submit multiple times per month. You must be at least 18 years old and live in Ventura or the surrounding area to qualify. This prize holds no cash value (unless prohibited by law, in which case cash value is $.005). We may discontinue this drawing at any time without previous notice.